Speaking of Dotombori, a signboard of Glico is a very famous landmark.
It is authorized as a scene of Osaka city though it is the signboard of 1 company.
This turns on at night, but, in fact, this does not readily turn on.
I took this photo at about 5:00 in the winter evening, but only Glico is still dark though all the neighboring signboards are turned on.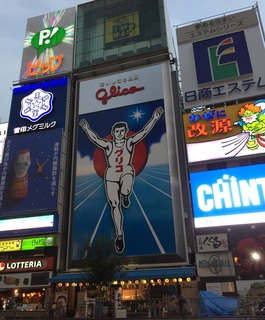 The purpose of the signboard is to appeal a company and a product.
It is no use if not able to be seen.
Therefore it usually turns on as soon as it becomes dark.
But this signboard is different.
The lighting-up time is fixed.
From 30 minutes later of the sunset to midnight every day.
He is the last runner of the lighting.
It turns on surely 8:00 p.m. in summer, 5:30 p.m. in winter.
Please come after this time.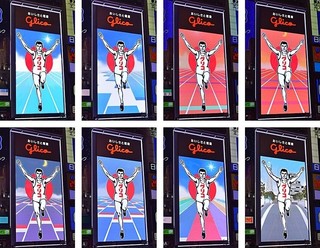 The background of the runner changes when it turns on.