I found this tile in Dotonbori street, on the side of "HARIJYU."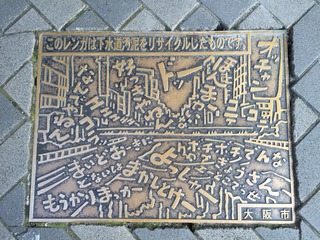 It is full of Osaka dialects.
From the popular words like "Nandeyanen", "Sukkyanen"
to the shouts like "Eeeeee", "Yosshaaaa",
there are 16 dialects.
There are too many letters to see a picture of the background.
"Don't spend our money on such a worthless thing!"
If Osaka citizen says straightly, look at the left corner.
"This brick is made of sewer grime." in the standard Japanese.
PS: This tile moved to approximately 10 meters east in 2017.
It is in the side of the police box, the south-foot of Ebis Bridge, now.