This is a Gozabune ( a pleasure boat ) for sightseeing. It cruises the inner moat of Osaka-jo Castle.
It was one of the commemorative events of "400 years of the Summer Seige of Osaka" last year, and cruises again this year because the reputation was good.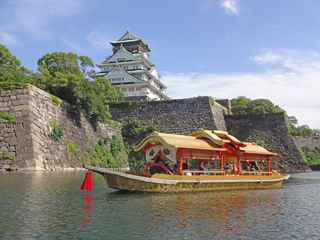 This golden ship reproduced a ship of Hideyoshi seen in "Osaka-zu byobu, the Japanese folding screen depicting the cityscape of Osaka during the Toyotomi period" found in Austria.
If Hideyoshi lives, he would make a golden ship. So some sheets of pure gold leaf are put on the whole ship.
According to the captain of this ship, "400 years commemoration of the Summer seige of Osaka" was "400 anniversary memorial service of Yodo-dono and her son Hideyori, so this ship was made as the "Toyotomi family's Buddhist altar specifications".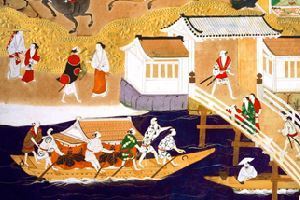 Osakazu-byobu, Hachikenya pier
I went on board, too.
On the hot summer day, it was cool on the ship and I felt like a noble lady.
Unfortunately it does not cruise on winter (from December to February) and a day of the stormy weather.
(for 20 minutes, adult 1,500 yen, child 750 yen)