There are 7 monuments of huge seafood attached to the ceiling of Kuromon Ichiba Market.
Kelp bass (Khue), Sea bream (Tai), Tuna (Maguro), Spinly lobster (Ise-ebi), Crab (Kani), Globefish (Fugu) and Octopus (Tako).
You would apt to watch the shops only, but I recommend to look up at the ceilling occasionally.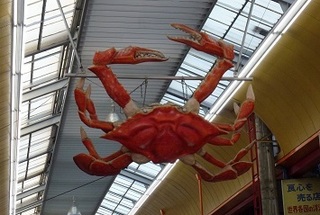 This is Kuromon crab.
And this is Dotonbori crab. They are different types.